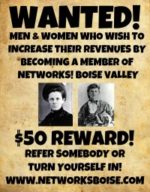 We are actively looking for new members for NetWorks! Boise Valley and here is your chance to cash in on our need! NetWorks! Boise Valley is a B2B networking group that meets weekly for lunch in the Boise area. Our group is limited to one member per industry classification only. Our members are very serious about networking and we provide them with the tools and the atmosphere needed to maximize their return on investment!
There are two ways to claim your $50 reward …
Refer somebody you know to our group and, if we have an opening and they actually join and submit their first quarter dues, you will get $50 by cash or by check.
Turn yourself in and become a member and we will apply that $50 to your first quarter dues or we can give you $50 by cash or by check after you have paid your first quarter dues.
How do we get this started?
First please talk to your potential member and see if they have interest in learning more. Please remember that we are a B2B (Business to Business) organization and not B2C (Business to Consumer). If they are interested, please tell them to expect a call from Craig M. Jamieson who owns and operates the group.
Contact Craig by phone at 208.340.9546 or by email at craig@adaptive-business.com and provide Craig with: prospective member name, company name, phone #, and email address. Please be sure to provide your contact information as well.
Craig will contact your prospective member to determine if we have an opening and if his or her company would fit within our organization.
If there is a fit, your prospective member will be invited to visit a meeting as our guest.
All things being good … a membership offer is extended, accepted, dues are received, and you get your $50!
That's it and … feel free to refer as many members as you can. There is no cap on the referral dollars that you can earn! Thank you!!