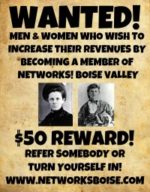 We are actively looking for new members for NetWorks! Boise Valley and here is your chance to cash in on our need! NetWorks! Boise Valley is a B2B networking group that meets weekly for lunch in the Boise area. Our group is limited to one member per industry classification only. Our members are very serious about networking and we provide them with the tools and the atmosphere needed to maximize their return on investment!
There are two ways to claim your $50 reward …
Refer somebody you know to our group and, if we have an opening and they actually join and submit their first quarter dues, you will get $50 by cash or by check.
Turn yourself in and become a member and we will apply that $50 to your first quarter dues or we can give you $50 by cash or by check after you have paid your first quarter dues.
Continue reading "WANTED! New Members For NetWorks! Boise Valley – $50 REWARD!"