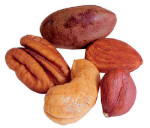 In the spirit of David Letterman, here are our top 10 reasons for seriously considering applying for membership in NetWorks! Boise Valley B2B Leads Group …
10. You get fed a great lunch every week! Come on … we know that you go out at least once a week for lunch or for a frosty cold one. Your meal is worth probably close to half of your dues and, it get's better! It's like taking 15 people or more out to lunch every week and they all go dutch! Furthermore, (ask your accountant) your dues should be 100% tax deductible!
9. You will rub elbows with the best! And, you will build relationships that will last a lifetime! Your fellow members are well connected and are committed to seeing your business grow!
8. Every week you will receive business intelligence not yet on the street. Or, for that matter, not yet in the paper or on the news! What's it like being able to be the first person tracking on this new opportunity and being ahead of your competitors? It rocks! Continue reading "10 Reasons You'd Be Nuts To Not Want To Join NetWorks! Boise"