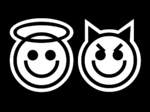 I was moving some books around my shelves this morning and an index card fell out on the floor. I have zero idea of where it came from. That being said, I figure that God wanted me to see it and that he wanted you to see these words too (smile). So, here they are. They are marked as:
Words to Use (for extraordinary customer relations) and……
Words to Avoid (for extraordinary customer relations)
Words to Use:
Are you willing?
Will you?
What have you considered?
What are the options?
Which do you prefer?
What are the alternatives?
How can it be corrected?
How can I help?
What do you want me to do?
Here are some options.
I made a mistake
I understand.
I understand your concern
I apologize for (specific action)
however
will/willing
able
unable
Words to Avoid:
have to
I need (want) you to….
You need to….
What's your problem?
I can't/you can't
Would you mind….?
I'll try
I'm sorry
It's just a …….
best/worst
but
required, necessary
should/ought to
must
policy
jargon
Now then, wasn't that easy? Sure was for me (smile).
Thanks for visiting!
Craig