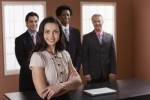 The other day I was pondering the question … "What characteristics make up the consummate NetWorks! Boise member?" Actually, I think about that a lot. Some members in our group do extremely well while others … not so much. We have guests who attend our meetings who would be perfect for our group, and who by all indications would be extremely successful, yet they choose not to join. Hmmm. Here is how I would define that perfect member. They …
Have a target market that is business – We have made the choice to focus our group on B2B vs. B2C. In this way, our members share a common target market. We do have members who do both and even have a few who I would say are primarily B2C. B2C members will rely largely on referrals and introductions vs. general leads. That's great but, those do take more time as our current members will need to get to know that new member fairly well before they will directly refer them to one of their accounts or friends. At the same time, this B2C member will be expected to contribute B2B leads as that is the focus of our groups.
Provide a product or service that would be valuable to a large number, and different types, of businesses – Narrowly defined products or services, for example something that can only be used by a specific industry, will likely not be a good match for our group. The wider your market, the more opportunities you will be presented with.
Have some skin in the game – We have some members who pay their own dues while others are fortunate enough to have their company pay those for them. Personally, if a member is compensated by his or her company at least partially by commission or based on performance bonuses, I think that they should pay for at least a portion of their dues. When you have a little skin in the game, you tend to take things more seriously.
Are compensated at least partially based on commission or performance – Commissioned based people are more likely to follow-up on general, or warm leads, that are generated by the group. As their compensation is based on results, they tend to be a little hungrier and I always like hungry.
Are tasked with finding and generating revenue from new business – Well, IMHO, everybody in a company should be tasked with finding new business. That being said, if that is not at least a part of your job description, I am not sure why you are even here?
Are not afraid to make warm or cold calls – They like to prospect and they thrive on the results. You are going to magnify your opportunities ten-fold if you are willing to do this.
Understand that networking is hard work – Networking is more than just showing up (although it's a good start). It's about participating, helping others, and doing all of that outside of the weekly meeting.
Place the needs of their fellow members above their own – Givers do get. 'Nough said.
Always contribute in terms of leads, referrals, or introductions and this includes when they miss a meeting – If "givers get", then get giving. Even when you are not at a meeting, you will be receiving a copy of the leads that were shared by those who attended the meeting. If you are in town, and are not flat-out on your back, there is little reason why you would not be able to fax or email your leads, your contribution, in.
Meet with other members off-site in an effort to get to know them better and to leverage shared connections – This is magic yet, too few members do it. Learn more about each other. Share your contact lists. Talk about who you would like to connect to and see if your fellow member can maybe help.
Are not afraid, rather they relish, the opportunity to present their business to their fellow members – We encourage members to make presentations regarding their business, or if they have some other business-related skills or knowledge, to the group. I am constantly amazed by those who will do practically anything to avoid this opportunity. We also offer our members the chance to write articles for this site. Less than 10% have taken advantage of that to-date.
Make frequent use of the words "please" and "thank you" – And do it publicly as in thanking another member for their lead, introduction, or referral.
Promote their fellow members – Promote them in meetings and promote them to your customers!
Are always at meetings and always arrive on time because … they make it a priority! – The only time I miss a meeting is when I am out-of-town or on those rare occasions when I am deathly ill. When I point that out to others, their response is "You have to be at meetings. This is your business." That's true but, however you look at it, attending is a priority for me. Now, I know that there are times when other duties may have to come first. I'd like everyone to apply this rule. If I had a meeting with another important client, or I was going on vacation, or I was scheduled for surgery, would I miss this appointment to take another? If the answer is … "I'll try to find another time for this meeting because I can not miss what I already have scheduled", your weekly NetWorks! meeting should be the same because … it is a priority. If it isn't, maybe you shouldn't belong to our organization. Arriving on time? That's a choice too. When you don't arrive on time, I also assume that this is how you will treat anybody who I might refer you to. Fact is, I assume that when I look at all of your behaviors, good or bad. It is what it is.
Gather their leads to share during the week and not during the meeting. They are prepared – Better and more complete leads come based on preparation than they do based on panic.
Make every effort to vet their own leads for completeness and accuracy – You get upset when another member's leads suck or are inaccurate. Please report these issues to me but, only after you have taken a good long look in the mirror.
Understand the difference between an investment and an expense and they are willing to invest in themselves – Stopping at Starbucks on the way to work for that $5 latte is an expense. Taking a client to lunch is an investment. Beers after work with co-workers are an expense. Belonging to NetWorks! Boise Valley is an investment. Expenses reduce the thickness of your wallet. Investments increase that thickness. If you have difficulty understanding this basic concept, don't call me. I'll call you.
Do you think that you have what it takes to be the consummate NetWorks! Boise member? Please take our 10 point questionnaire and then leave us a note!