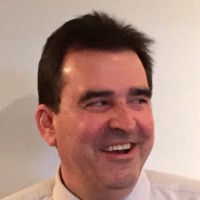 Summary Bio: I have been involved in the printing industry since 1986. My work experience in the industry has taken me from campus copy shop to large corporate in-plant commercial shop and mail room to my current position at BizPrint. I've seen the industry change dramatically over the last 30 years, but still what matters most is taking care of, and truly being a partner that is passionate about my customer's success.
Company Address: 600 Front Street Boise, Idaho 83702
Office Phone: 208-338-9746,  Mobile Phone: 208-908-1273
Email Address: chuck@bizprint.com
Social Profiles:
LinkedIn: https://www.linkedin.com/in/chuck-moore-549ab180
What services d o you provide? BizPrint provides traditional offset printing services, digital printing services, direct mail services, graphic design, and promotional products – pens, USB drives and the like. We can also provide mailing and contact lists based on specific demographic criteria.    
How do these services help your clients? BizPrint's services help people communicate more effectively with other people. Whether it's an event poster, newsletter, or a direct mail piece to a prospect, donor or membership list.
What are important things that members should know about you and your business? We are a local independently owned business. The majority of our employees have worked for BizPrint more than ten years. We are a business to business vendor and focus primarily on long term customer relationships. The majority of our products are produced in our shop.
What constitutes a good lead for you? An introduction to anyone that uses direct mail or printed materials to communicate with clients, prospects or membership would be a good lead for BizPrint.
Please describe who you call on. Office Managers, Business Owners, Marketing and Public Relations Professionals, Communication Directors, Membership Directors, Facility Managers and in-plant Print Managers.
What is the best way for someone to provide a lead or referral to you? An informal introduction or letting me know the contact information for someone that could benefit from my services. If you think someone might have a need for printing, that's probably a lead for me.
Are there trigger events that might create an opportunity for you? A law firm changing partners, annual trade association conferences, a business that is changing name or branding, seasonal retail promotions, local political races.
How early do you need to be in on a deal? Depends on the deal, but usually as early as possible.
Do you have a target market? Non Profit Organizations, Medical and Dental Offices, Retailers that use direct mail, Professional Trade Associations, State and County Government, Advertising and Public Relation Agencies.
How can other members best help you? If you know of a business or organization that can benefit from any of our services, please tell them about us or let me know the details so I can contact them. A casual introduction by email is always good.
How can you help other members? I can provide direct referrals and introductions to many of our clients. We are well established with many local businesses, state government agencies, as well as many local non-profit organizations. Please don't hesitate to ask me if you're looking for a specific contact as I may be able to help you connect.